If you own a mobile home, you need to make sure that you have the right kind of home owner's insurance coverage, because mobile home owner's insurance is VERY different than site built home owner's insurance. But first, a little history.
Origins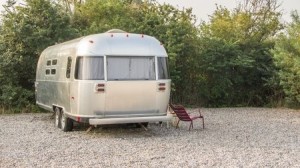 It may be hard to believe, but this goes way back to 1926 when a few "Trailer Houses" were built for vacation homes. Then many were produced for the government so workers could live near defense manufacturing plants. Just after World War II (1947), quite a few aircraft factories were converted into factories that produced "Trailer Houses". At that time, the Interstate Highway System had just been completed, and the government had built out many national parks.
So this new industry was built on the belief that Americans would want to travel all over the country to take advantage of the highways and national parks. And, they reasoned, "Wouldn't it be great if you could just pull a small house behind your car, and take all the comforts of home with you?"
If you ever get the chance, find the 1953 movie "The Long, Long Trailer," featuring Lucille Ball (Lucy) and Desi Arnaz (Ricky). They hook up a brand new Redman trailer house to their car for a vacation to California. It was like the first "Family Vacation" movie.
But it illustrated what the industry thought to be the primary use for the houses it was building. At that time, these trailer houses were limited to 30-feet in length, and were typically 8-feet wide. Most didn't have indoor plumbing.
Then later on in the 1950's these manufacturers made a startling discovery – most of these "trailer houses" were being bought by families that couldn't afford to build homes, and they bought trailer houses as their permanent homes.
So the manufacturers began to build them bigger and bigger, with many more amenities, indoor plumbing, built-in appliances, etc. And then they discovered that there was a huge market for "double-wide mobile homes", and that's when mobile homes became a LOT less mobile.
Now, typical mobile homes range from  1,300 sq/ft to 2,400 sq/ft, and rival site-built homes in construction quality, durability, strength, amenities, and in just about every other way. The only difference is that they are built in climate-controlled factories, and delivered to the site by professional drivers, and installed by experienced build-out crews.
Back to Mobile Home Owners Insurance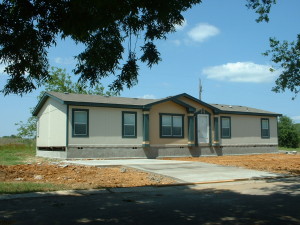 As most of you know, government regulations change very slowly. And because "trailer houses" were built to be used on the roads, government regulators decided that they should be insured just like cars and trucks. They had to have collision, comprehensive, and automotive liability insurance – the same as other vehicles. To this day, the terminology remains pretty much the same.
The policy coverages have evolved, but the terms are similar. So mobile home insurance specialists like the Antler Insurance Agency, have to stitch together homeowner's insurance coverage very carefully, utilizing the correct terminology. A responsible insurance agency will not only find the right coverage for you, it will find the best rates.
And that's what we do here – we work with our Clients to understand their unique situations, and then put together insurance coverage tailored to their every need.
In many cases, Clients have a business on their property (like automotive repair, carpentry, cabinet building and many others), and will also need commercial coverage (even if it is a part-time business). We are fully-capable of providing insurance coverage that will fit your unique business situation.
And just a quick note here – even if you own a small business that's run entirely inside of your mobile home – like website development or consulting – you still need commercial coverage. You should definitely consider discussing it with us; it might save you a lot of heartache.
Whatever your needs, we can find the right coverage for you.
So thanks again for taking a look at the Antler Insurance Agency – We appreciate your consideration, and look forward to working with you.
Contact us today for a free, no-obligation quote.
Thanks, Ray McKinney